Winning Moves is a business diagnostic, digital, and research and evaluation consultancy.
As a social enterprise with a mission to 'inform better tomorrows', we place social value at the core of our work. We accomplish this by providing insight to our clients, which include national and local government organisations, economic development agencies, business support bodies and charities, all of whom are working to make the world better – whether that is by growing the economy and creating new jobs or improving our environment.
Our consultants are sector and thematic subject matter experts in fields including sustainability, net zero and digital adoption. Our expertise has been honed over 25 years through our values of being 'different, better and faster'. We aim to exceed expectations, which is reflected in our consistently high client ratings across all metrics, including final outcomes, impact, insight, communications and project management.
You can learn more about how we got here and where we are going below.
WHERE WE CAME FROM
In the 90s a trio of bright and ambitious young men joined consultancy firm Winning Moves to work on a project commissioned by the Department of Trade and Industry.
They were tasked with developing and promoting a new benchmarking product designed to bring the benefits that large businesses had been yielding for many years to SMEs across the UK. Having driven the growth of the benchmarking service for more than a decade, Winning Moves knew that it could be even better. When the government sponsorship of the initiative came to an end, recognising its value and potential, the company purchased the service and set out to build a global best-in-class benchmarking solution.
And so they did. Under Winning Moves, Adrian, Mark and Colin built Benchmark Index (BI) into the gold standard of business benchmarking. The BI platform has been used in 46 countries across five continents, with more than 500,000 businesses benefitting from it. Our client list includes the United Nations, the governments of Australia and South Africa, and closer to home, national and local development agencies across England.
In 2009, that trio of men – more experienced, a little greyer, and with a lot of frequent flyer miles – bought Winning Moves. Still hungry to support businesses, they grew the company beyond BI, offering consultancy services in innovation, productivity, leadership and in specific sectors, such as automotive, ceramics and tourism, and more recently, digital adoption and sustainability.
Winning Moves commissioned Databuild, a research and evaluation (R&E) company, to evaluate their Promoting Innovation programme. Databuild thoroughly impressed the team at Winning Moves. They had deep, technical knowledge accompanied by a practical application, offering high quality insights, whilst being personable, honest and thorough, adding value at each step. Recognising the exceptional talent at Databuild and wishing to expand, Winning Moves bought the company in 2016.
It has proven to be an excellent marriage of equals. Both sides worked for similar clients and sectors; both shared an affinity for data and sustainability; and, both aimed to deliver above expectations. Crucially, both companies were filled with a bunch of nice people, who shared a similar sensibility for hard work, compassion and fun – with a side of quirkiness.
Formally integrating both companies, the staff from Databuild have become leaders and cherished colleagues at Winning Moves. Debs is now our Managing Director; Michelle is our Director of Research and Evaluation; and, Karl is our Director of Service Development and Improvement. They sit alongside two of the original three: Mark as Director of Performance Improvement and Colin as our Non- Executive Director. The rest of the original Databuild team have also continued to grow in their roles and pass along their knowledge as we've welcomed new members into the fold.
As the new, expanded Winning Moves lived their values of 'different, better and faster' and continued to produce exemplary work highly rated by their clients, others took notice.
ENTER DATABUILD
'Recognising the exceptional talent at Databuild and wishing to expand, Winning Moves bought the company in 2016.'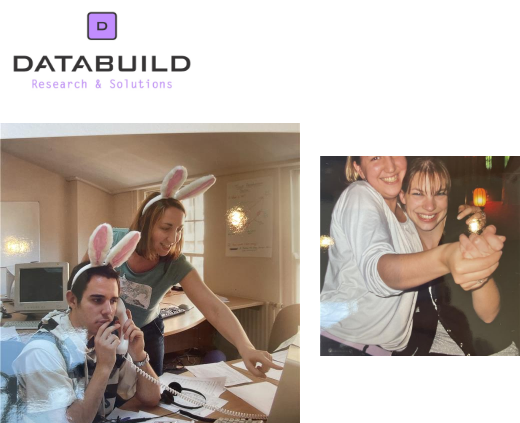 ENTER THE GROWTH COMPANY
'After collaborating with GC for several years, Winning Moves proudly joined The Growth Company in 2023.'
The Growth Company (GC) is an award-winning social enterprise with a mission to enable growth, create jobs and improve lives. The group has multiple tentacles that reach into many worthy endeavours and align with Winning Moves activities.
After collaborating with GC for several years, Winning Moves proudly joined The Growth Company in 2023. The move enables us to continue to expand and pursue our mission of informing better tomorrows, while remaining true to our culture and values.
Under the umbrella of GC Insight, Winning Moves, along with key consulting departments within The Growth Company, and sister company, ekosgen, have ambitions to become the largest independent consultancy service in the UK. Winning Moves continues to operate independently, whilst working closely with GC Insight colleagues when we can make a greater impact together
We've come a long way since our inception, but some things haven't changed. We're still ambitious, innovative and ethical, and an affable group of people who want to make a positive impact.